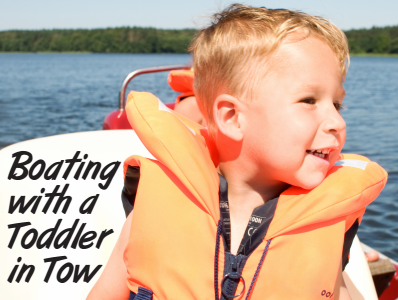 Part of the beauty of boating is that it's an enjoyable activity for just about all ages. I played on my grandfather's boat in his backyard as a toddler and soon graduated to day-long bay fishing expeditions in search of "Big Charlie" on my dad's boat. My husband and his brothers spent their summers canoeing, kayaking, and sailing on a vast glacial lake. Now with a family of our own, we are excited to share the same kinds of memorable boating experiences with our little girls.
Parents know that doing things with toddlers is rarely easy or effortless, so the goal of my article is to share a few tips to make boating more fun and a little less fussy. Along with all your safety and kiddie gear, bringing tantrum-diffusing tricks aboard should make boating more pleasant.
The biggest concern when boating with little ones is ensuring their safety. All children, regardless of age and regulations, should wear U.S. Coast Guard approved life jackets everywhere (except in the cabin). The youngest kids should wear self-righting ones to ensure their heads come to the surface if they become immersed.
Proper sunscreen is essential for skin safety. Check labels to ensure the sunscreen you buy is a minimum of 30 SPF and free of irritating chemicals. Even if the label says the product is waterproof, be sure to reapply frequently, especially after swimming, splashing, and perspiring. Wearing hats and clothing made of sun-blocking fabrics add extra protection.
Most importantly, keep your eyes on your children. Toddlers can be quite mischievous and often impetuous, so it's safer to expect the unexpected and have more than one adult supervising.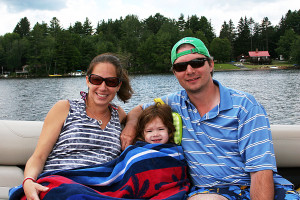 While you're keeping kids safe, also keep them satisfied.  Pack a selection of healthy and yummy snacks to keep hunger at bay, such as crackers, yogurt raisins, fruit salad, raw veggies with dip, mini sandwiches, cold chicken tenders, granola bars, and bags of favorite cereals.  Even better: Before heading to the boat, have your youngster help prepare some snacks, adding to their sense of accomplishment and increasing anticipation. Try something simple yet versatile like a homemade trail mix where your child helps measure and combine ingredients. And let your toddler help pack the picnic basket if you'll be eating a meal aboard, as that will add excitement rather than prompt a "No!" when it's time to dine. (If you're bringing along your four-legged pal, remind your little skipper to pack a few dog biscuits, a bowl, and a bottle of water for your pup.)
Remember to pack plenty of bottled water and juice boxes for the young crew. Your little one may also prefer to have his or her personal water bottle or sippy cup — to prevent a meltdown because you left a favorite at home, keep a duplicate on the boat. The same applies for bringing a child's favorite lovey or stuffed animal in case it gets lost or forgotten when you head home. Have identical toys aboard or make a big deal of selecting something special that your child enjoys only on the boat.
When it comes to electronics, leave them ashore. Stress to toddlers the fun of nature and family time, leaving screen gazing for another time.
Sometimes it's purely the luck of the draw when it comes to a happy toddler. So many factors determine his or her mood, from how well he slept to teething or being in the independence phase. Oftentimes nothing you can anticipate will push a child's button, but there are a few things I'd recommend to better your odds of having a contented child:
Encourage a nap. Bring along a blanket or simply cover your little one with a dry towel and allow her or him to stretch out or cuddle close. It's only a matter of time until the rocking tide lulls anyone to sleep.
Keep everything interesting. Point out points of interest, wildlife, and pretty colors. Listen for sounds, talk about the shapes of the clouds, or share what you love most about boating — toddlers are like little sponges and they love to learn about the world.
Play a game. It doesn't have to have pieces or take very long. Play a game of I Spy, Simon Says, or What Animal Am I? to keep your little one entertained.
Bring along binoculars. When all else fails, break out the binoculars and let your tot explore the scenic views in true panorama style (just remember to hold onto the strap).
Despite what I advised about electronics, be sure to bring your camera or smart phone along to capture these memorable boating moments in stills and video. Our little loves grow up way too fast!
By Kathryn Van Druff