Boating, as a sport and a popular outdoor recreational activity, is a natural form of social distancing. Your boat has to stay a certain distance away from other boats (just like cars on a roadway), and when you're on a boat, you're surrounded by water and fresh air.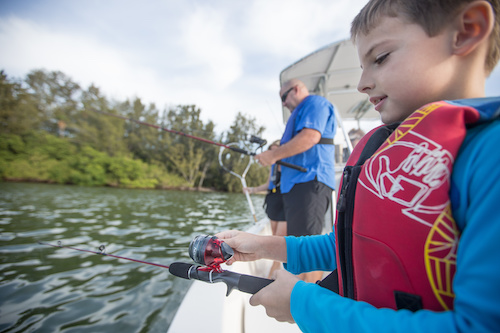 So, when a sunny day comes along and you're looking for fun things you can do outdoors with your family, boating is the perfect stress-reliever—and it's easy to find boat rentals near you if you don't own a boat of your own. Boating is an on-demand escape from everyday life—and a safe activity you can do with a small group of close friends and family.
Here are 10 fun things you can do on a boat while staying safe with your family, and without breaking the bank.
Explore the Go Boating Today Tool
1. Fishing
Regardless of whether you're freshwater or saltwater fishing, there's no need to go far offshore to satisfy the urge to catch fish. In fact, having a boat near-shore means you can fish not only in the traditional way, but also with fly-fishing gear. Some people prefer to bait a hook and wait for a fish to bite. Others prefer to troll with bait in the water. Still others love the rhythm and exercise of repeatedly casting a fly-fishing rod. All of those techniques can be used pretty much everywhere, with what you catch depending on where your boat is located.
Learn More About How to Start Fishing
2. Wakeboarding
Most boats are set up for wakeboarding. Assuming that you already have life jackets on board, all that you need to add to the equation is the actual wakeboard and a tow rope for the rider to hold onto while you pull him through the water. A good wakeboard and a tow rope can be purchased online for about $300 total, and they can be used and reused not just for one season, but for years to come.
Wakeboarding can be hours of fun and exercise; consider a contest among your kids, to see who can stay upright the longest, or who can jump the highest over the boat's wake.
3. Water Skiing
Old-school watersports lovers may prefer water skis to wakeboards, simply because back in the 1960s and '70s, everyone was trained to face forward, hold onto the tow rope and let the boat pull you up out of the water. Wakeboards force the rider to start out with legs turned sideways—a position that can be challenging for older riders to get comfortable using. Water skis are also less expensive than wakeboards. A good pair can be had for about $160 to $180 online. And, like wakeboards, the water skis can be used for years to come. They're an investment in what will add up to hours upon hours of fun on the water.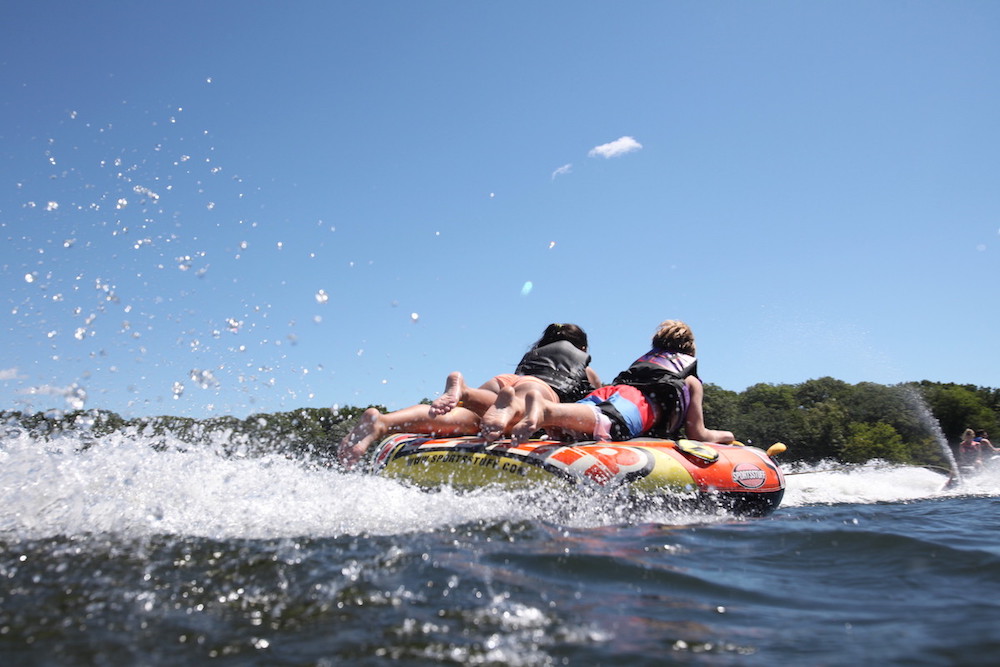 4. Riding Tow-Toys
Long gone are the days when there were only inflatable tubes that kids of all ages could ride on behind a boat. Today's inflatable tow toys come in all kinds of shapes and sizes, ranging from two-person bananas to four person "lounge chairs" with individual handholds (if the boat tows you slowly enough, you might even want to try sitting out there with a beverage). The smallest inflatable toys can be purchased online for less than $100, and they're shaped as everything from swans to fighter jets, to suit every family's personality—you can learn more about selecting the right tube reading, Choosing the Best Towable Tube for Your Boat.
Boat Tubing Basics: How to Pull a Tube
5. Camping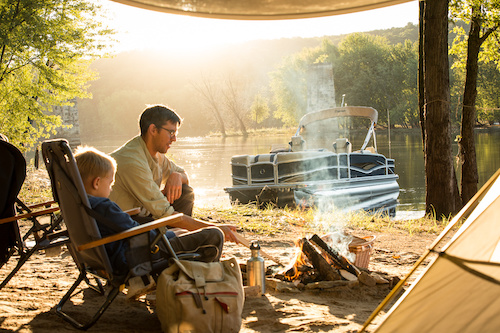 Sometimes, you just need a change of scenery. Boating offers that option in spades, even at the last minute, should the weather turn nice and your calendar have a couple days open for cruising a ways up the coast. You can anchor out on a mooring ball or with your own ground tackle, instead of pulling into a marina, which lets you create natural social distancing from all the people ashore (as well as from all the other boats in the harbor). Simply waking up the next morning in a new setting—with the sun shining, the reflection bouncing off the water and the smell of fresh air all around—can be a psychological lift unlike any other.
Boat Camping: 5 Tips for Sleeping Onboard Your Boat
6. Take-Out Dockside Dinner with a View
One of the greatest pleasures of boating is pulling up to a waterfront dock-and-dine restaurant, collecting your phoned-in order of fresh catch of the day or peel-and-eat shrimp, and then taking it back to the boat to eat with a 360-degree view of the sunset over the water. This experience has long been a favorite among boaters, even without social-distancing requirements. Dinner with a waterfront view from the boat is even more of a treat now, with the option of cracking open a favorite beverage and sleeping at anchor for the night in the fresh air.
In the Mood to Cook? Here's 5 Tips for Cooking On a Boat
7. Snorkeling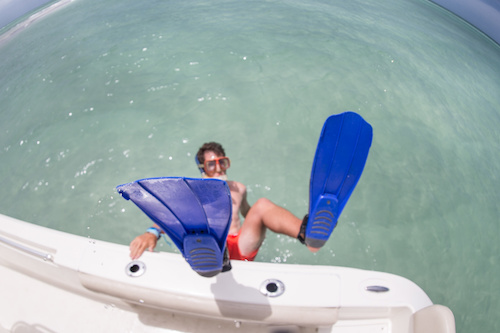 Few sights are as delightful as the ones just off the swim platform of a boat, where wearing a snorkeling mask and fins lets you enter a whole world of natural scenery that doesn't exist anywhere else. Coral comes in shapes ranging from staghorn to mushroom, and in colors that sometimes seem too vivid to be real. The fish swimming around the coral also can be breathtaking, from tiny clownfish to larger parrotfish. With a basic underwater camera to capture your favorite moments, the fun of a few hours spent snorkeling can bring smiles in keepsake photo albums for years to come.
3 Ways Boating Helps Soothe the Soul
8. Scuba Diving
If you're looking to escape from the daily barrage of news headlines, then there is no better place to be than 40 to 70 feet underwater in scuba gear, where the news simply cannot reach you. This is about the depth where you can place yourself in the middle of all kinds of underwater life, literally swimming through schools of fish and, occasionally, seeing a ray or turtle go by. In locations where there are vertical coral walls, you can scuba dive along them, looking in all the nooks and crannies for everything from sea stars to moray eels. The closer you look, the more you'll see, and the very act of scuba diving will let you regulate your breathing and relax your heart rate.
Best Day Boats: Top Choices for Day Cruising
9. Stand-Up Paddleboarding (SUP)
A stand-up paddleboard is the best way to practice social distancing while giving yourself a serious core workout. Once the boat is at anchor in a scenic, quiet bay, the paddleboard can be dropped into the water in a matter of seconds, and you can step onto it from the boat's swim platform. Paddleboarding is one of the quietest activities out on the water, perfect for anyone who wants to watch the birds in the trees ashore—or, depending on the clarity of the water, the fish just beneath the surface. And the workout is great for the arms, core and legs alike. Paddleboarding is a whole-body experience.
Four Calorie-Burning Watersports for Your Summer Workout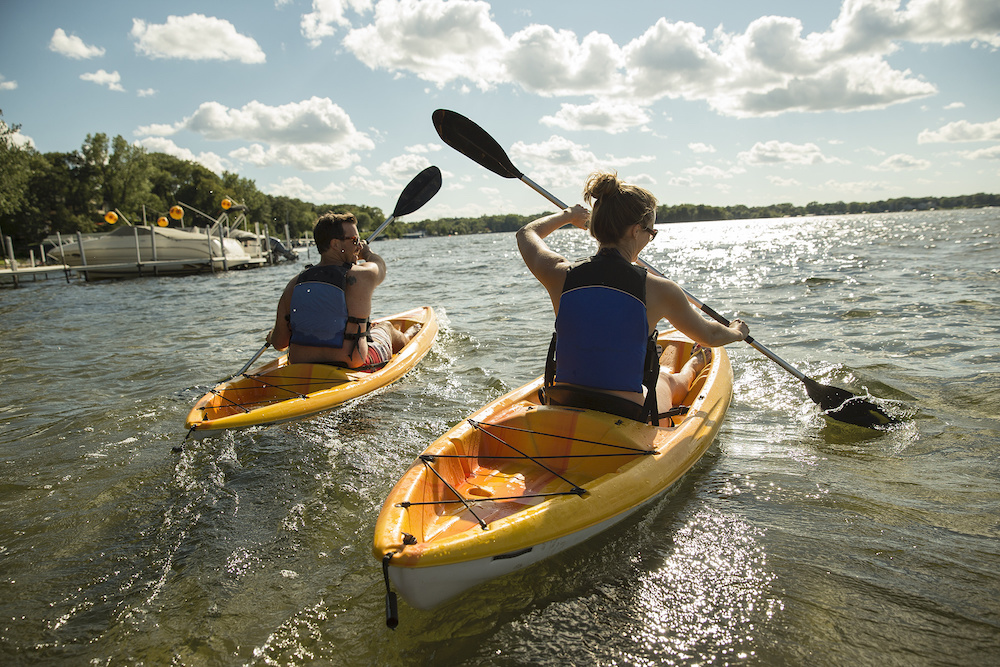 10. Kayaking
One- and two-person kayaks are small enough to store on a boat, and they can be taken out for playtime after the mothership is on a mooring ball in a scenic harbor. Kayaks are usually inflatable or rigid plastic, so they're also light and easy to launch. And they require pretty much zero training to use. If you can hold a paddle, then you can explore in a kayak. Better models also have foot pedals to help with steering for beginners and anyone kayaking through water that runs a little fast. To explore other small vessels similar to kayaks, be sure to read Small Boats: What Are My Options?