Freshwater fishing is one of most popular outdoor activities in America, and it's no wonder why: it's fun, wholesome, exciting, and a great way to bring the family together while enjoying the wonders of nature out on the water. It's also no surprise that freshwater anglers love enjoying their sport from the helms of their fishing boats.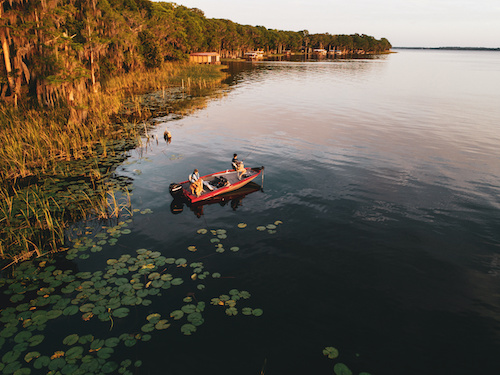 Just which boat will be ideal for you and your family? There are lots of options, and all of them are good ones.
Types of Freshwater Fishing Boats
Compare Saltwater Fishing Boats
All-Purpose Fishing Boats
This catch-all category includes a wide range of makes and models that are designed to be flexible in nature. They can be used for all different types of fishing, though anglers who are dedicated to a specific species or tactic should note that in order to make them as versatile as possible they can't offer the same sort of advantages as models that are laser-focused on a singular mission.
Still, for folks who want to try out every different experience from dropping spoons down deep for lake trout to casting the shoreline for largemouth bass, an all-purpose fishing boat is a great pick.
Aluminum Fishing Boats
There are countless varieties of aluminum fishing boats out there, and many of them make excellent freshwater fishing boats. The simplest, least expensive in the mix are jon boats, which are easy to buy, easy to maintain, and easy to transport. Many, however, aren't ideal for rough sea conditions. Modified V-bottom and deep-V bottom aluminum fishing boats are also on the market, and these certainly do better in choppy waters. So whatever type of freshwater fishing you're into, there's almost certainly an aluminum boat built for that purpose.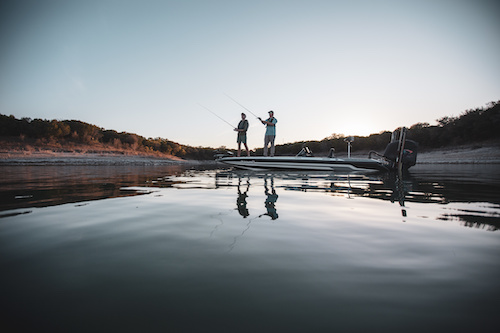 Bass Boats
Bass boats are about as specialized as freshwater fishing boats get. They're designed to help you pursue largemouth bass, period, and provide the fast performance and integrated equipment (like large release wells, multiple rod boxes, and advanced electronics), that make them suitable for tournament-style bass fishing. Naturally, that means they aren't as adaptable as many other boats—you won't want to try trolling with downriggers for walleye in open water, for example, from a bass boat. But when it comes to targeting those largemouth there is no tool as finely honed.
Bass Fishing Tips: How to Catch Bass
Bay/Flats Boats
Most people think of bay boats and flats boats as saltwater fishing platforms, and it's true that the vast majority of the boats falling into this category are used in saltwater. We've included them here, however, because they still work quite well for angling in large, open bodies of freshwater. They also usually offer the stellar performance of a bass boat.
So for many anglers who might trailer to the coast one weekend and fish in a large reservoir or lake the next, bay and flats boats are worth some consideration.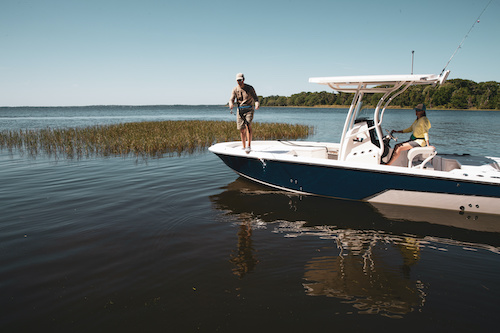 Center Consoles
Like bay and flats boats, center consoles are also generally thought of as saltwater fishing machines. But once again, all-around flexibility and open water capabilities mean they have a place in the freshwater fishing boat conversation. In fact, when to comes to fishing extremely large bodies of water like the Great Lakes, many anglers favor those ocean-capable center consoles above other options.
Center Consoles vs. Walkaround Boats
Deck Boats
An excellent option for family anglers who also enjoy activities like entertaining and watersports is the deck boat. Deck boats maximize the deck space aboard by maintaining their full width, or at least most of it, all the way to the bow. Since the boat doesn't grow narrower and narrower as you move forward, there's more room for seating up front and you can invite more friends out on the water.
Plenty of deck boat models offer basic fishing features like rod holders and livewells as well as forward and aft swim platforms and watersports accessories, so you can shop for one oriented more or less towards whatever sorts of fun you and your family enjoy the most.
Fish-and-Ski Boats
If you crossed a bowrider with an all-purpose fishing boat, you'd likely end up with a fish-and-ski. They're available in both aluminum and fiberglass models of all different shapes and sizes, and since they include an added emphasis on watersports, many also feature large powerplants and sporty performance.
Of course, you do have to expect to sacrifice a bit of the fishability a more dedicated fishing boat would offer, but most fish-and-skis cover all the basics and include things like livewells, pedestal fishing seats, and bow-mounted electric trolling motors.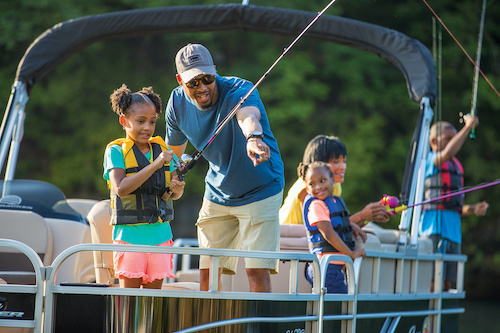 Pontoon Boats
If you enjoy mellow days on the lake, it'll be tough to beat fishing aboard a pontoon boat. It's important to note that most pontoon boat models come without any fishing features but almost all of the builders offer fishing versions or packages that equip the boat with livewells, rod holders, and pedestal-mounted fishing seats. Plus, they still have those comfy couches, wet bars, and large swim platforms.
While pontoons may not be the top pick of most hard-core fishermen, fishing from them certainly has its advantages.
Walkarounds
Walkarounds are another type of boat that most people associate with saltwater fishing, but again, are quite popular in large, open bodies of freshwater where rough sea conditions are common. Although you lose fishing space in the bow you gain the protection of a cabin, and that can make all the difference in the world to anglers who like to fish in marginal weather conditions, or for families with small children.
What Type of Freshwater Fishing Boat is Right for You?
Which will be the very best freshwater fishing boat for you? Clearly, different types of anglers have different preferences. The good news is, no matter what yours are it's a sure bet that there are plenty of freshwater fishing boat models out there that you'll find tempting.
Keep the plusses and minuses of each in mind as you go boat shopping, and soon the best freshwater fishing boat for you will be sitting in your driveway on a trailer, or at the marina in its slip.