If there's one thing the year 2020 has taught us all, it's that we should take nothing for granted. This article was originally published at Discover Boating.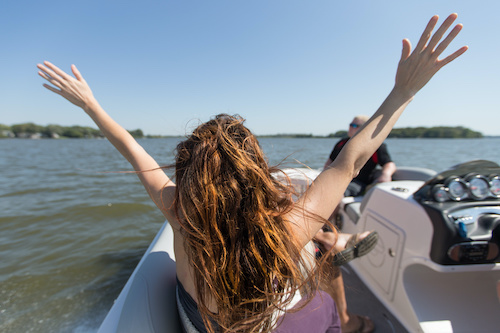 The COVID-19 pandemic, at its brutal core, has been a relentless reminder that we should make the most of every day that we are alive—and living the fullest possible lives includes taking real steps toward fulfilling our biggest dreams.
So, with 2021 now on the horizon, it's a great time to think about actually doing something on your boating bucket list. No matter how long the pandemic continues, boating will remain a fun, outdoors, socially distanced activity—because hey, boating really is the perfect vacation on-demand.
And lucky for us boaters, boating will always be something to look forward to—so get excited for the next year of boating that lies ahead with these fun ideas to check off your boating bucket list in 2021.
2021 New Year's Resolution Ideas for Boaters
1. Cruise to a New Destination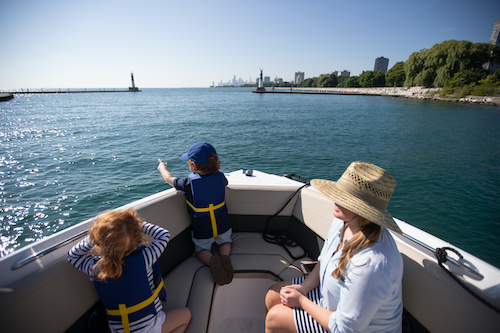 Cruising to a new destination doesn't have to mean going far, or riding hard, or burning a ton of extra fuel. It can simply mean cruising to one more town beyond the last one you visited up the coastline, or heading one island farther along in your favorite archipelago.
The idea is to enhance your confidence and improve your skills at the helm by pulling into a new anchorage or marina. Cruising to a new destination also lets you be in a new setting surrounded by different sights, smells and sounds than you're used to—you can even turn your trip into a boat camping adventure. That's an experience to treasure after the past year of living day after day on what often felt like a perpetual loop.
Grab a cruising guide and a chart, find a location that interests you, and start researching the tides, inlets, marinas and other salient details. Before you know it, you'll be cruising someplace new—and thinking about where else you might want to cruise next.
10 Best Boating Destinations in the US
2. Improve Your Docking Skills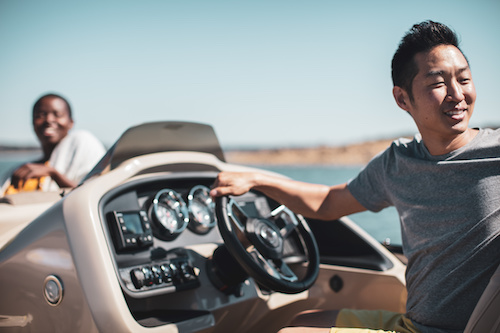 For most boaters, docking is the most anxiety-inducing part of the day. There's no scientific proof to support this statement, but take an informal poll around the docks. You'll see. Precious few people like to dock their boat, especially in close proximity to other boats with a crowd standing on the dock watching and shouting "helpful" advice (it's no wonder docking mistakes made our list of the 12 Most Common Boating Mistakes & How to Avoid Them).
One reason boaters get so stressed out about docking is that they haven't taken the time to practice the skills that go along with the task. Docking is all about staying calm and making close-quarters maneuvers, things that can be practiced in open water where nobody is looking. Make it a priority to build that practice time into your schedule. Once you feel more comfortable envisioning the docking procedure in your mind, bring the boat to the actual dock and spend some time practicing there too.
Eliminating your own nerves from the equation can go a long way toward removing anxiety from the docking experience. You can become the skipper who receives applause from the crowd after tying up and heading ashore for a frosty beverage.
Docking a Boat: Step-by-Step Guide
3. Learn More About Your Electronics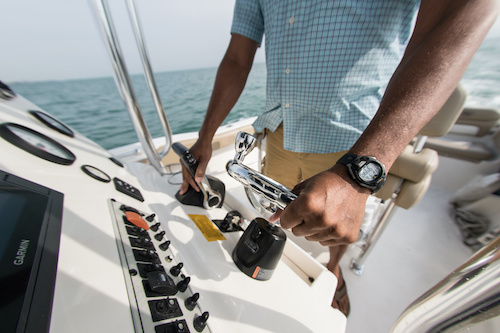 Are you thoroughly familiar with every button and feature on every piece of your marine electronics?
If you answered yes, then you're a rare and precious gem of a human being. Entire towers of technology should be built and named in your honor. Most of us don't even know how to work all the buttons on the TV remote control at home. Which is why there's no shame in being ignorant about helm electronics features that you never use on the boat, or that you don't even know are there.
The existence of all those helm electronics features presents an opportunity to learn, and to improve your overall boating experience. Many manufacturers these days offer video tutorials online to show off the various functions and features that come with chartplotters, fish finders and more. Committing to learn a little more doesn't necessarily mean flipping through a gargantuan manual, as in the days of old.
And being familiar with all of the features at your disposal just may inspire you cruise in ways you didn't even think were possible.
Basic Boat Electronics for Beginners
4. Take a Boating Class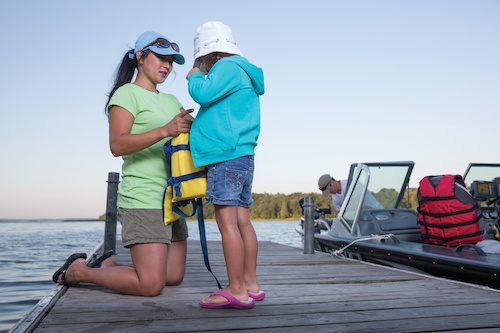 One ray of light that shone through the darkness of the COVID-19 pandemic was the speed with which everyone from boat dealers to boat show organizers enhanced their online offerings. The folks who create boater-education courses are no different; they had some online offerings prior to the pandemic, but now, there's a bounty of knowledge awaiting boaters of all skill levels at the click of a mouse.
If you already know the basics of boating, that's great. Organizations including the United States Power Squadrons and BoatUS offer all kinds of upper-level options for folks with bucket list dreams of learning a whole lot more.
There are seminars about cruise planning, weather, marine electrical systems, anchoring, tying knots and all kinds of other boating specifics. What better time than the present to take a deep dive into a part of the boating world that you've always wished you knew more about?
Boating Safety Courses, Education & Hands-On Training
5. Improve Your Maintenance Skills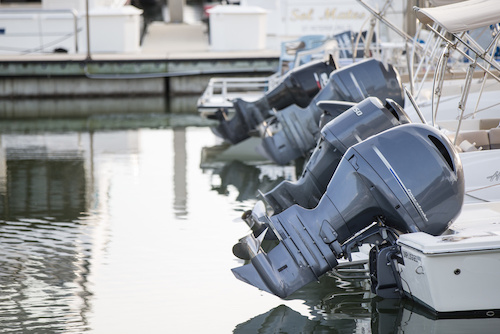 When thinking about the courses you might take this year, consider putting boat, engine, and trailer maintenance the list.
Let's take your boat's engine for example. Sure, you probably know the basics of how your boat's engine works, but wouldn't it be nice to feel confident that if you had a breakdown away from the dock, you'd be able to fix it instead of calling for a tow back to the marina? And think of all the money you might save on shoreside repairs if you could learn to do a few of the lower-level tasks yourself.
Engine maintenance courses cover everything from the basics of engine parts to diagnosing problems with them. While modern engines with computerized systems will often require a mechanic, there still are plenty of things that boat owners can learn to fix themselves.
And, most of these courses help boat owners understand when it really is time to call in some professional help, a lesson that can save a lot of boating time and aggravation in the future.
Basic Boat Maintenance Checklist for New Boaters
6. Teach Your Significant Other How to Skipper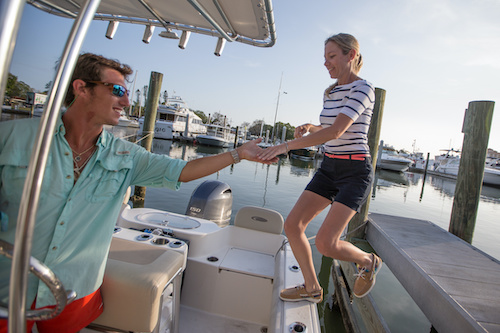 For decades, spouses have complained that they don't like boating as much as their partners do. The scenario is most often a husband who always takes the helm, and a wife who goes along for whatever ride he wants, often feeling silently terrified that if something went wrong, she wouldn't know what to do to help or get the boat back home safely.
The Cruising Club of America came up with a course called "Suddenly Alone" that alleviated a lot of those spouses' fears. Today, that course has evolved into a program called Safety for Cruising Couples.It's designed to ensure that everyone on the boat knows what to do in case of an emergency, from taking command of the boat to calling for help on the VHF radio.
Having this knowledge helps everyone to feel more comfortable on board—and makes it far more likely that everyone will want to keep heading out on the boat together (also consider planning a romantic date night onboard to celebrate).
Start with the Basics: How to Drive a Boat
7. Plan the Ultimate Boating Vacation of a Lifetime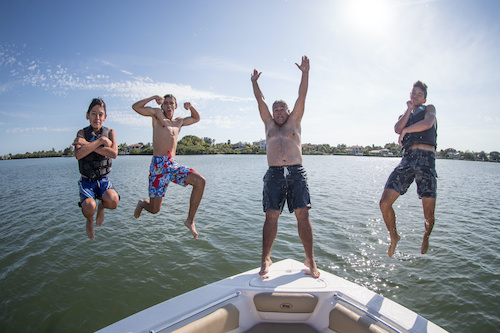 No boating bucket list would be complete without a suggestion to plan the cruise of a lifetime. Whether it's heading from New England to Florida, or from Florida to the Bahamas and beyond, or from the Pacific Northwest to Alaska, or around America's Great Loop of rivers, gulfs and oceans, a cruise of a lifetime usually takes months to years of planning.
Non-profit organizations like the Salty Dawg Sailing Association organize rallies to destinations including the Caribbean that let boaters cruise on their own boats, but with a group, to get a feel for the types of longer itineraries that might be part of a bucket list cruise. America's Great Loop Cruisers' Association is the place to make online friends if you're thinking about a Great Loop itinerary.
Want to cruise somewhere else? Do a little searching online, and you'll absolutely find a group of like-minded boaters who are planning bucket list itineraries similar to the ones of your dreams.