Keeping your dog safe and happy on a boat means preparing in advance with a dog life jacket, dog-friendly water toys and more.
The first time I took my dog on a boat, I learned with our first steps onto the dock that dogs experience things differently than people. We walked onto the floating dock, and I was smiling with my eyes on the boat just ahead, ready to introduce him to everything I loved about a day on the water—but my dog stopped short, paralyzed with fear as the floating dock below him moved and swayed with the current. my dog had never felt that motion beneath his four paws, and his reaction caught me off guard. I knew we'd have to overcome some "firsts" once we were on board with the engine running, but it hadn't occurred to me that I should prepare for walking him across the floating dock.

It took a fair bit of coaxing, and ultimately carrying him the last few steps, to get my dog onto the boat at all. But once we got underway, he had a fantastic time. Like many dogs out on the water, he let his ears flap in the breeze and enjoyed being soaking wet and surrounded by his favorite people all day. The experience was well worth his bit of initial fear, but if I had it to do over again, I would have taken him down to the floating dock a time or two ahead of the boat trip, so he'd learn to feel safe from start to finish.
Here are five more tips for boaters going cruising with dogs:
HELP THE DOG FEEL SAFE ON THE BOAT.
When the engine revs and the boat takes off, the dog is going to experience several new sensations: scents, sights and motion alike. Depending on your dog's temperament, you may need to sit with him on the sole, or let him sit in your lap. Once he feels safe, he's going to have a far better time learning all the fun things that a day on the water can include.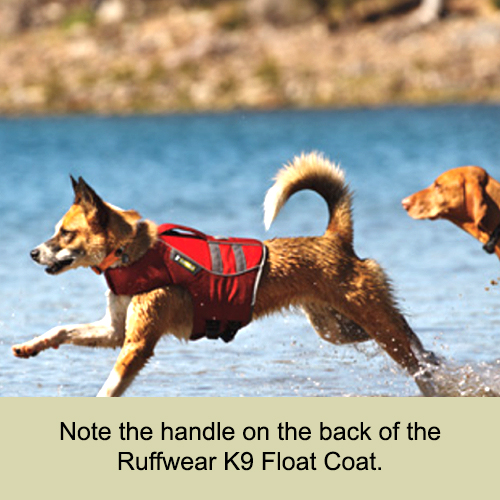 HAVE A PROPERLY FITTED DOG LIFE JACKET.
Properly fitted are the key words here. Most life jackets are sold for dogs in given weight ranges, but depending on your dog's body shape, a medium-size life jacket might fit better on a "large-weight" dog (think: skinny Greyhounds versus chunky Labradors). Look for a boat-supply store that will let your dog try on the jackets before you buy, or order a jacket through the mail with a free-return policy. Some dog life jackets even have handles running along the back, making it easier to get the dog on board if you have to lift help them.
CONSIDER DRAMAMINE AND KEEP BREAKFAST MINIMAL.
Dogs, like people, can get seasick. Some experts recommend a quarter-dose of Dramamine or similar pharmaceutical remedies—after checking with a veterinarian first. Such pills can make dogs drowsy, though, so you might first try limiting the dog's breakfast and bringing along some treats to give as his stomach settles and he gets used to the motion of the boat.
BRING LOTS OF EXTRA DRINKING WATER.
How hot would you be if you went boating in a fur coat? Bring at least three times the amount of fresh water your dog usually drinks at home, and consider keeping him cool by wetting him down repeatedly throughout the day. Having a shady spot for him to relax on board is also ideal. He's going to get tired, and he's not going to be able to nap under the blazing sun without the potential for heat exhaustion.
HAVE FUN WATER TOYS AT THE READY.
Remember: The word is fun. Especially the first time or two out on the boat, have new toys ready for the dog's playtime on deck or while supervised in the water. Pet-supply stores sell floating chew and squeak toys that are made for swimming pools, and that can be tossed in lakes and coves. Give the water-skiing a rest for a few hours and focus on fetch with Fido in the water, and he'll soon be racing you down the floating dock when you tell him it's time to go boating.